Opportunity Details
Registro Nacional para Voluntarios en Recuperación ante Desastres
¡Sé voluntario esta temporada de huracanes!
Buscamos personas de todo Puerto Rico que donen su tiempo y esfuerzo para realizar voluntariado en recuperación ante desastre.
---
El Voluntariado de Recuperación en Desastres se refiere a la participación activa y colaborativa de personas que se ofrecen voluntariamente para ayudar en la respuesta posterior a un desastre, ya sea natural o causado por el ser humano. Un desastre se define como un evento que interrumpe el funcionamiento normal de una comunidad o sociedad, y puede ocasionar pérdidas humanas, materiales, económicas y ambientales que superan la capacidad de la comunidad o sociedad para hacerles frente utilizando sus propios recursos.
Los voluntarios que forman parte de los esfuerzos de recuperación ante desastres pueden contribuir en diversas áreas, entre las que se incluyen:
Participar en la confección y distribución de alimentos.

Ayudar en el establecimiento y mantenimiento de refugios.

Ofrecer cuidado pastoral y apoyo emocional.

Atender las necesidades de los niños.

Brindar cuidado a las mascotas.

Colaborar en la reparación o construcción de viviendas.

Ayudar en la organización y mantenimiento de centros de acopio.

Facilitar la conexión de las personas con los servicios necesarios.

Brindar apoyo en materia de salud mental.

Contribuir con material educativo para la comunidad.

Participar en la limpieza de áreas verdes o rutas para hacerlas transitables.

Ente otras actividades.
La contribución de los voluntarios es fundamental para ayudar a las personas afectadas a superar las dificultades y reconstruir sus comunidades.
---
El propósito de este registro es poder tener un banco de personas interesadas alrededor de Puerto Rico para poder apoyar en el proceso de distribución de voluntarixs y recuperación de desastres. También, las personas que se registren tendrán la oportunidad de recibir información adiestramiento de la Red para el Desarrollo del Voluntariado y nuestros colaboradores.
Para más información:
voluntariospr@sagrado.edu o 787-728-1515, etx. 5169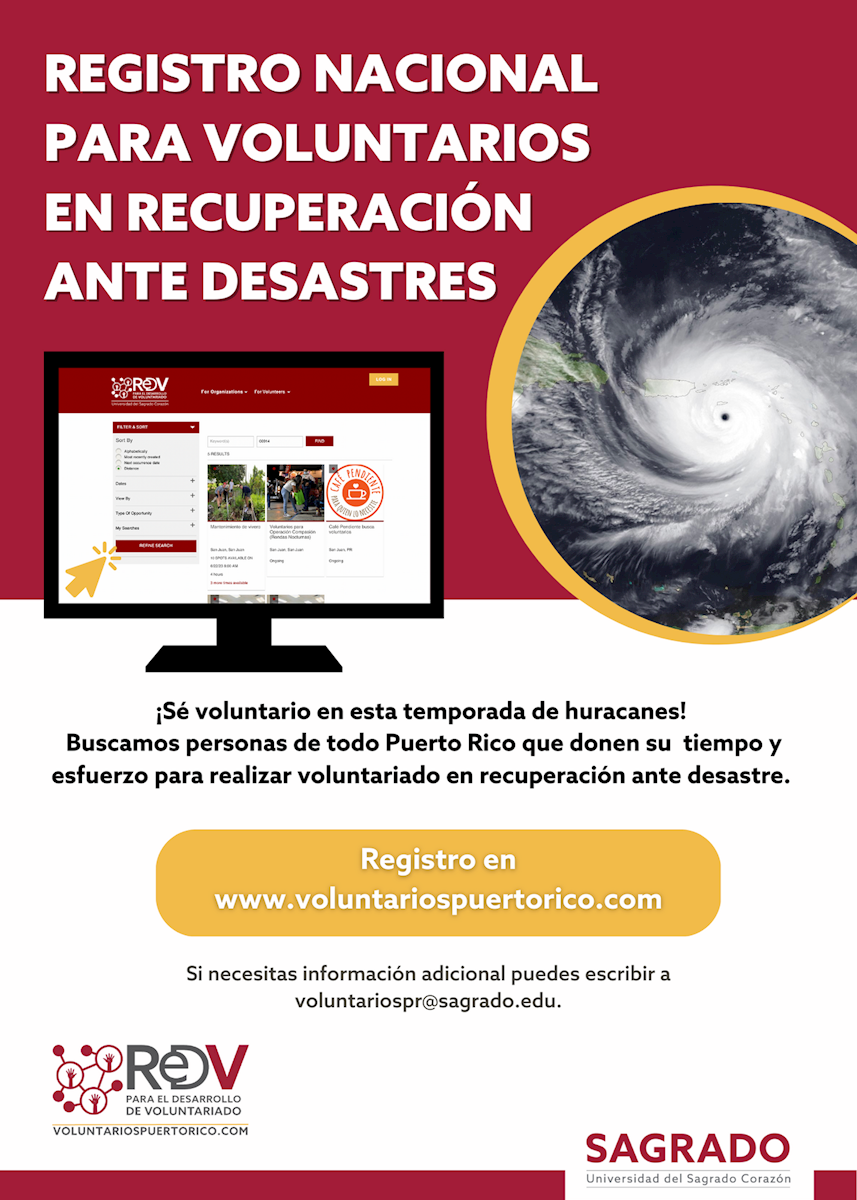 Partnerships to Achieve the Goal
Age Minimum (with Adult): 18+, Minimum Age:18+
Please wait...
Log in or Register
In order to register for this opportunity you must log in to an existing account or register to create a new account.
Sign up with a team
This link allows you to participate in this opportunity with a team. When you click on the link you will have the option to:
Choose an existing team you're already a member or captain of, or
Create a new team to sign up.
Signup Questions
Please respond to the following questions in order to signup for this opportunity:
Please wait...
E-mail