Age Minimum (with Adult): 18+, Minimum Age:18+
Voluntario/a para área de Planta Física
Se necesita voluntarios para el área de Planta Física en instalaciones de Iniciativa Comunitaria, Inc. (ICI).
Tareas
Conocimiento básico en el área de mantenimiento como pintura, corte de grama, organización de almacenes y otras.
Horario
Horario a escoger según disponibilidad del voluntario durante el horario de operaciones de Iniciativa Comunitaria (Lunes a viernes: 9:00 a.m. a 4:00 p.m.)
Lugar
Calle Quisqueya #61, Esquina Calle Chile, Hato Rey, PR 00918 (GPS: https://goo.gl/maps/GuAQNFx8dsB2)
¿Quiénes somos? Iniciativa Comunitaria, Inc. (ICI) es una organización sin fines de lucro que brinda servicios de salud, educación y prevención a personas afectadas por el virus del VIH/SIDA, la adiccion a drogas, la deambulancia y ofrece ayuda a jóvenes en riesgo. Somos una organizacion de vanguardia que trabaja para acompañar solidariamente a la comunidad en su desarrollo y transformación.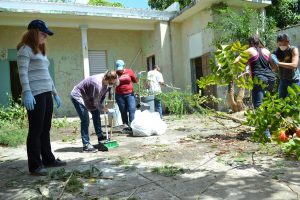 Please wait...
Login or Register
In order to register for this opportunity you must login to an existing account or register to create a new account.
Signup with team
This link allows you to participate in this opportunity with a team. When you click on the link you will have the option to:
Choose an existing team you're already a member or captain of, or
Create a new team to sign up.
Signup Questions
Please respond to the following questions in order to signup for this opportunity:
Please wait...
E-mail